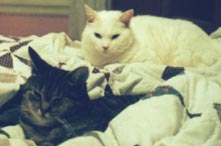 Bubette is our one-eyed cat mascot. Bubette's is a group of collectors who are willing to part with their stuff for money (so they can go out and buy more stuff).
For this reason, our stock will vary greatly based on what each of us have. We specialize in art pottery, vintage clothing, collectables and toys.
If you are still looking for something particular that does not reside on these pages, please e-mail us and we will look for it.
A portion of all sales from Bubettes will go to Cat Welfare. This is a nonprofit cat adoption program.
Thanks for stopping by....Bubette (meow).